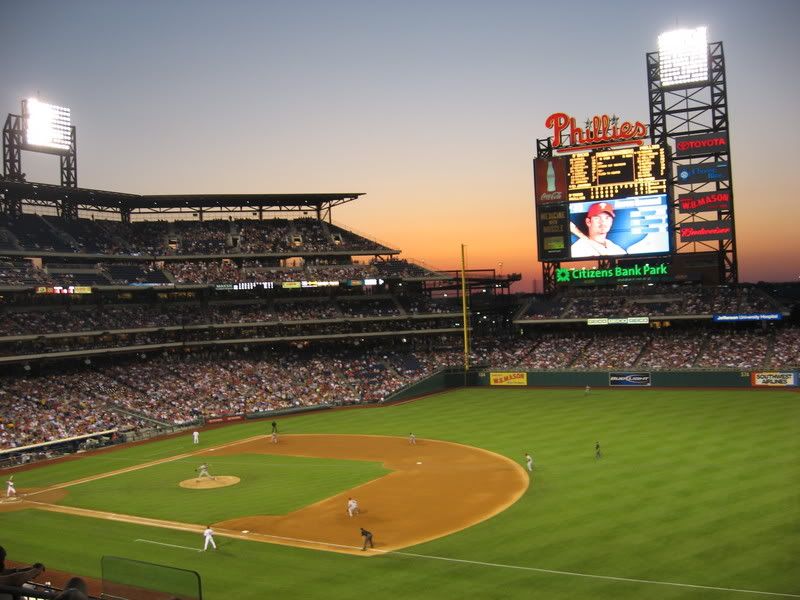 Last night, I went to my first game at Citizens Bank Park in Philadelphia, and I must say that I came home very impressed.


It is a beautiful stadium with all of the modern amenities. The food was great and they offered a wide selection. They have barbecue, cheesesteaks, hot dogs, pizza, etc.

The outfield concourse, known as Ashburn Alley, offers great views of the entire ballpark. In addition to the views of the ballpark, it goes right behind the visitor's bullpen. Of course, former buddy Randy Johnson (pictured, right) was pitching for the Diamondbacks last night, so I got to see him warm up. Needless to say, it was great yelling at him.

When walking to the seats, the entire concourse is open, so you can look out and see the field. The wideness of said concourses is also a plus.

The crowd was quiet for most of the game, and I expected the Philadelphia fans to be a little more rowdy, but maybe this had to do with it being a Wednesday night game against Arizona. Phillies starter Jamie Moyer gave up a first pitch home run to Eric Byrnes, and that was the last offense until the eighth inning, when he gave up three more runs to take a 4-0 lead.

The Phillies were able to come back in the ninth, scoring three runs. 2006 MVP Ryan Howard came off the bench to pinch hit, but lined into a double play to end the game.

All-in-all, it was a fun game in a very nice stadium. Going to a game in a 21st Century stadium made me realize what we as Yankee fans are really missing out on, and I am now excited for the new Yankee Stadium. I would definitely want to come back to Citizens Bank Park.

The above pictures are from my Canon PowerShot A540. I followed Maria Sharapova's advice to make every shot a PowerShot.