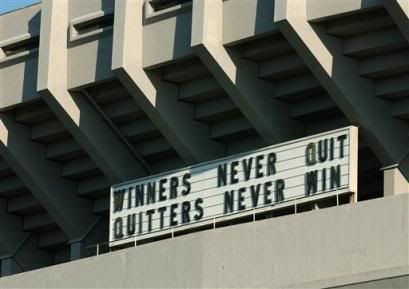 Obviously Derek Jeter won't go in front of reporters and television cameras and say, "Yeah, this team is terrible. We're 13.5 games out of first place. We have no chance of winning anything this year, so we might as well give up."

Their actions on the field are speaking louder than if they pulled a Bart Simpson and placed 20 megaphones back to back and spoke in front of them.

I knew a year like this would come soon, as they can't finish in first every year. However, I did not think that this year would be the year. The team got old really fast and caught a lot of bad breaks.

There is no way to fix this mess this year. Firing Joe Torre and Kevin Long (the hitting coach) would accomplish absolutely nothing. Torre will be gone after this year, and I want him gone. However, there is no need to fire him. The players are the problem. Johnny Damon is playing like a 45-year-old, Bobby Abreu is inept, and Jason Giambi is a recovering drug addict. However, it is impossible to trade anyone of these guys. Why would MLB general managers want to help out the big, bad New York Yankees and take on their bloated contracts?

Brian Cashman may take the fall, and he made some bad moves (Kei Igawa, anyone?), but it isn't his fault that Robinson Cano regressed and that Abreu totally fell off. The bench, bullpen, and backup catcher are his fault, and a $200 million team should be able to improve these areas. However, the construction of the roster essentially inhibited many moves from being done.

Also, there are no great replacements for Cashman. He made some decent trades this off season that were meant for the future. There are some good prospects in the minors that we should see in the next two to three years. All is not lost. However, this year is lost. It's time to pack up and move on.

The above phrase was on the Yankee Stadium marquee after a George Steinbrenner statement following the 22-0 debacle against the Cleveland Indians in 2004.